Introduction
MagicsPrint for Nexa3D is a simplified version of Materialise's Magics build preparation software suited for our NX series printers. You will also need NexaX to take the build preparation data and create the final print file (.nxa). You do not need a NexaX license for the MagicsPrint workflow.
Before getting started, make sure you have done the following:
Obtained a valid CCkey (license) for MagicsPrint for Nexa3D
You should have received this over email when ordering. If you are unable to locate it, create a ticket to contact us and make sure to include an invoice so we can locate your order.
Downloaded MagicsPrint installer and config file (.bbprof)
Navigate to the downloads page and at the bottom, you will find the MagicsPrint section. Download both the installer and config file. The config file contains configuration data on the build volume, support profiles and formatting for use in NexaX in the next step.
Instructions
Install the MagicsPrint software on the target PC. This software is single license, node locked to the PC. Select the MagicsPrint install option when prompted, or the BuildProcessor option if you purchased that product. It is the same installer, but the licenses are configured for one or the other.
Install the .bpprof file.

Select

Platform Properties Configuration

from the Magics Print Basic Flow toolbar or

Configure Machine from Build Processor Window.
The software is now loaded. Please refer to the page on file preparation to prepare a file.
Select a Save-To Directory
Navigate to Configure Machine from the Build wizard or Build Processor window. Note the Build Processor may be running as an icon in the Windows system tray and not an open window.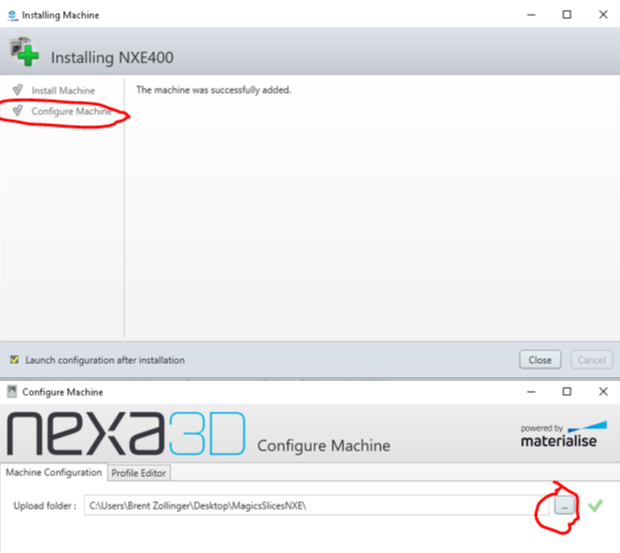 Change the Installation PC for Magics Products
Materialise assigns a SystemID to every PC used to run Magics software. To know your systemID, first install the software, then navigate to Licenses and Show System Information.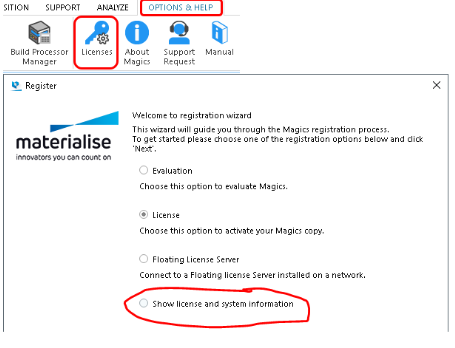 You can always see the status of your license (CCKey) at https://passwords.materialise.com/
Users of Materialise software must renew the keyfile every 6 months. This can normally be done with the same registration wizard used at installation. If the wizard is blocked by your VPN, then you may need to go to passwords.materialise.com to request a keyfile be emailed to you. Be sure to put your email address or it will be sent to Nexa3D and we won't know who it is for. You may set up the software to auto-renew (see p6 of All_Materialise_Software_Registration_procedure.pdf).
Or you can request a keyfile be emailed to you by completing the attached change form. Be sure to enter copy-able text for the system ID (not a picture or hand written).
Support
You will get your issue resolved fastest working with your local Materialise support office. You can create a support request in magics (Options > Help), which will pull your CCKey and SysID. Please include the magics support office in copy on the email.
Software - Materialise Belgium Software@materialise.be
Software - Materialise China software@materialise.com.cn
Software - Materialise France software@materialise.fr
Software - Materialise Germany software@materialise.de
Software - Materialise Japan software@materialise.co.jp
Software - Materialise Malaysia Software@materialise.com.my
Software - Materialise USA software@materialise.com
Software - Materialise UK softwareuk@materialise.co.uk
Updated