Users unsatisfied with Nexa3D's resin color options can look into dying their resin to achieve new color options. Thanks to Nexa3d's own Damian Godinez for suppling content for this article.
Disclaimer: Resin dying is not supported under warranty similar to other open material use cases, and the user takes responsibility to confirm the cure times and mechanical properties of the altered materials.
Nexa3D has not tested or evaluated all dye kit options on the market, but we have used with success Miraclekoo epoxy resin dye kits and Alumilite resin dye kits. Both are alcohol based liquid dyes designed for use with epoxy casting, and can be found at online retailers or woodworking specialty stores. Miraclekoo mixes well at 10mL per kg of resin, and Alumilite is more concentrated, so you may only need a few drops per kg. Aluminite White will convert translucent material to opaque and only a few drops are needed.
If you are an industrial user and are looking for color match on resin orders over 1ton, please contact a sales representative to discuss custom color blending options. Our suppliers can provide resins to match any Pantone specification.
In order to work with dying resin, you'll need a Pro license of Nexa X (operate in the open materials system from the custom settings menu). The exposure time per layer usually needs to be adjusted to get dimensionally accurate parts. The exposure time will need to be increased to achieve the same UV exposure to the resin layer since the dye will absorb or scatter some of the UV rays. Blue and purple dyes will absorb the least UV and yellow-red dyes will absorb the most. An increase in exposure time of 1-15% is normal.
You can add dye to translucent or clear photopolymer resins for a translucent color, or to white and near-white resins for an opaque color. Note many photopolymer resins use a yellowing photo-initiator which will turn a bit more yellow after post curing. You may observe some color shift after the post-cure (ie blue is a bit greenish). Some ultra clear or pure white resins may use a different photo-initiator which won't yellow as much. We recommend starting with one of these materials:
xGPP-Translucent
x45-Clear
xMODEL15-White
xCE-White
KeyModel Ultra Ivory
Be sure to mix well before dispensing into the printer and to label your bottles to avoid mixups. Avoid dyes that are powder based, but if working with them look for ones with nano-sized particles, mix well, and limit the mix ratio or you may block all the UV if it settles to the bottom of the vat.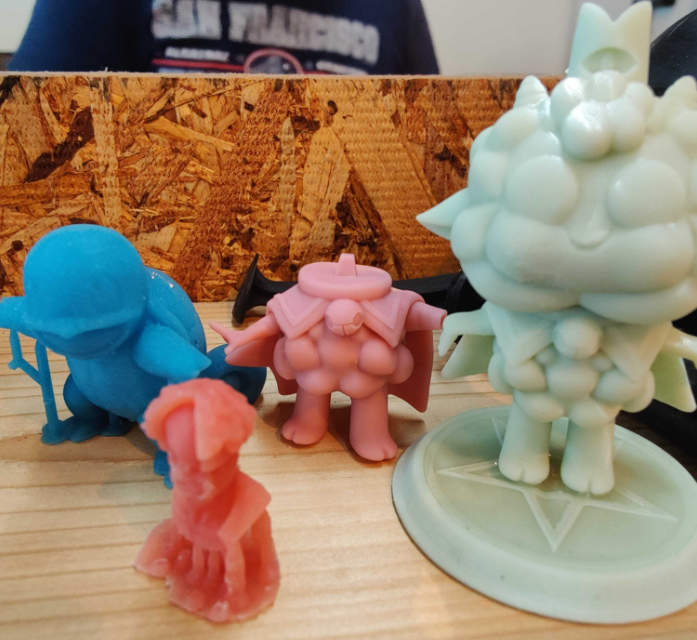 Updated